Diaphragm manometer EN 837-3, 100/160 mm
Version for chemical applications - Type PC...-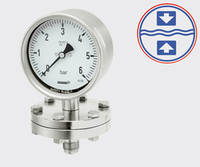 Features
NG 100 and 160 mm with horizontal measuring flange
without or with glycerine filling
installation of electrical contact devices
various pressure connections and materials

Description
Diaphragm manometers with horizontal measuring flanges for chemical applications are suitable for measuring thin liquids (threaded connection G ½ B) and especially contaminated and highly viscous media (e.g. open connection flange) in over- and underpressure ranges from -1 to 0 bar and 0/0.6 - 25 bar. The devices are made from solid stainless steel and are suitable for challenging environments and media. They are highly shock-resistant and have a high level of overpressure protection.
When the device is used in a shock-prone environment, the glycerine filling acts as a shock absorber for all components.
Electrical contacts have been provided for the alarm and switch functions.