Flush-mounted pressure and level transmitter
Modular system PZM Series 050D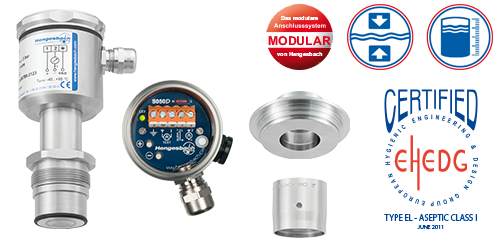 Features
EHEDG-Aseptic certified modular process connection system
accuracy ≤ ± 0,2%FS
simple parametering via 2-key concept and multi-colour status-LED
vacuum- und overload safe
easy to clean and high protection classes IP 67 und IP 69K
for measurement of pressure and filling level in tanks and pipes with basci requierments
simple calibration, even without disconnection of the transmitter, through switchable power supply plant / calibrator supply
Description
The PZM050D pressure transmitter is suitable for measuring the pressure and filling level, fulfilling the basic requirements of exactness. The robust stainless steel field housing in the hygienic design and the checked protection classes IP 67 and IP 69K withstand all aggressive and residue-free cleaning procedures such as those required in the food industry.
The 050D series pressure transmitter are equipped with a micro-processor controlled electronics system and an accuracy of ≤ ± 0.2% FS. They are parametrised with a simple and user-friendly operating concept via 2 keys and a multi-colour status LED. A TurnDown of up to 4 can be set using the full and empty adjustment.
The modular process connection system PZM acts as the process connection and gives its name to the pressure transmitter. This enables universal connection to almost any process connection from DN40 using only a single pressure transmitter and a suitable process connection adapter. The PZM pressure transmitters make a considerable contribution to achieving sustainable process chains. The process connection adapters available: Welded-in lugs for pipes and tanks, threaded and DIN 11851, conical couplings , VARIVENT® DIN 11864-1 female unions, DIN32676 clamps, etc. The PZM modular process connection is certified according to EHEDG type EL-Aseptic class I and has thus been successfully tested for use in applications with the highest require- ments made of hygiene. The design with press screws and O-ring seals enables alignment of the transmitter with simultaneous micro-organism impermeability.
The PZM050D pressure transmitters are highly-suited to use in applications with strict standards of hygiene and basic require- ments of functionality and accuracy.