Flush-mounted pressure and level transmitter
- Type KERAMESS KS100 / KS101 -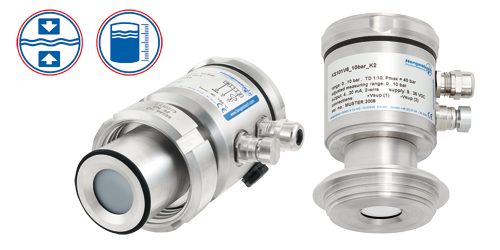 Features
precise measurements with an accuracy of ≤ ± 0,15% FS
with dry ceramic measuring cell
TurnDown 10
easy to clean an high protection classes IP 67 und IP69K
integrated on-site display or external OPUSM display and operating module for parametrisation and display of measuring values
application strengths: measurement of content and process pressure with small measuring ranges with an overload-safe ceramic measuring cell, also suitablbe for abraisve media
direct entry of parameters with plain text display
Description
The pressure transmitters KERAMESS KS100 und KS101 are suitable for taking pressure and filling level measurements in pipelines and containers. The wide range of process connections enables use in all applications in the food and pharmaceutical industries. Customer-specific process connections are also possible on request.
display and operating module OPUSM
The vacuum-proof and extremely overload safe measuring cell with a ceramic membrane made of highly pure aluminium oxide works on the basis of the capacitive measuring principle. The KERAMESS pressure transmitters are designed to measure from -1/0…1 to -1/0…70bar. The measuring ranges 0...0.05bar and -0.1...+0.1bar are available alongside other special measuring ranges. Thanks to the ceramic membrane, the KERAMESS pressure transmitters are particularly suited for aggressive and abrasive media. The design for long-term medium temperatures of up to 125°C enables CIP and SIP cleaning methods to be used on the transmitters. The high protection classes of IP67 and IP69K guarantee that the devices can be safely cleaned on the outside with foam and a high-pressure cleaner and that moisture is reliably prevented from entering into the device. For additional protection against moisture, the electronics are fully encapsulated in the housing.
All the pressure transmitters in series 100/101 are designed for universal applications and, in particular, for applications with constantly high temperatures of up to 200°C. Furthermore, using the on-site display with series 100 and the display and operating module OPUSM in series 101, the pressure transmitters can be simply read out, configured and diagnosed.