Conductive level sensor
- Type NKS 11 -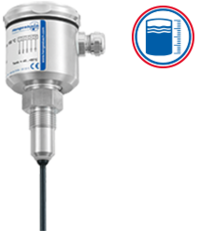 Features
conductive threshold level detection of liquid media
version suitable for high-hygiene environments EHEDG / FDA
stainless steel housing IP67
maintenance-free
option: with nm level module
Description
The conductive level sensors are mainly used to detect conductive threshold levels in liquids such as fruit juices, beer, milk, etc. with a minimum conductivity of 5 µS.
The favourable design, with its sealing cone and the corresponding welding sockets, means that there are no places in which residues can collect. The sensor is therefore easy to clean and suitable for use in the food and pharmaceutical industry, etc. CIP- and SIP-suitability are guaranteed.
The non-corrosive materials used for the rod and insulation mean that the sensor is also suitable for corrosive media. Various process connection forms render optimal adaptation to the application possible. The sensor can be shortened, which has a positive and practical effect on storage. The electrode is coated with HALAR, which means that the threshold level detection is also suitable for foaming media.